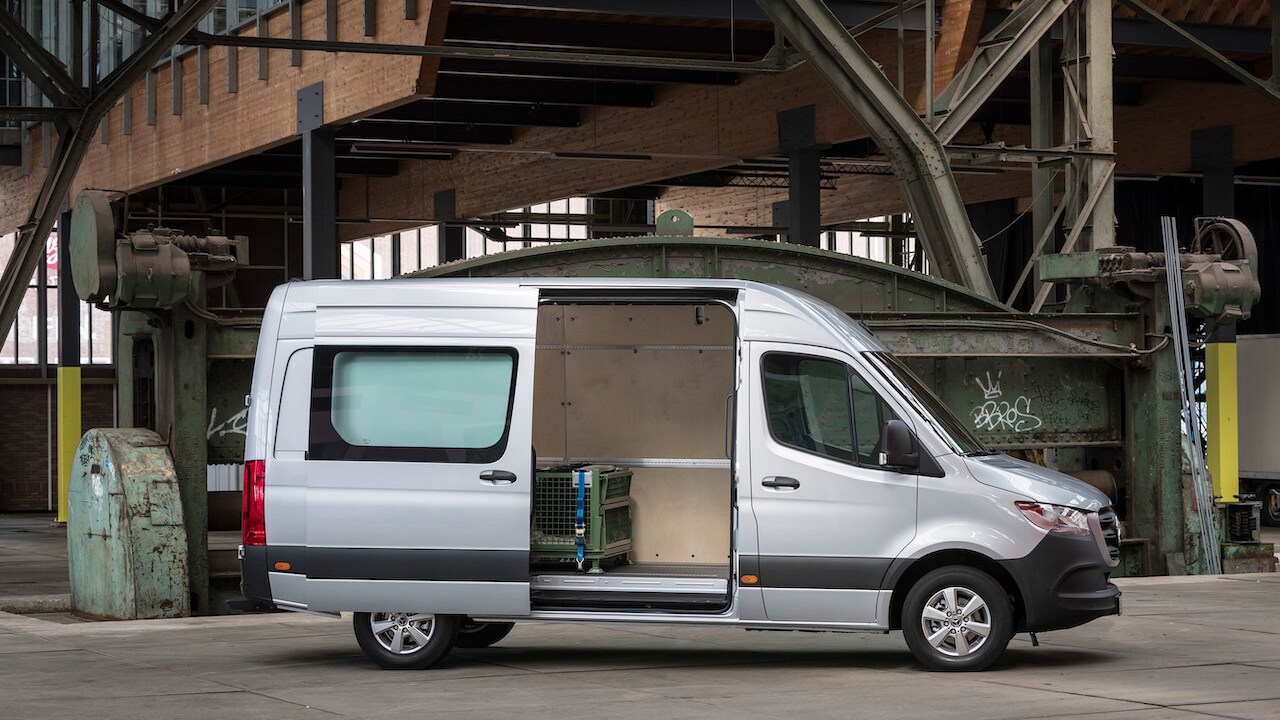 When North Texas gets to work, they do so with the right tools. 
Businesses in Plano, Allen, Addison, and across the DFW area rely on Mercedes-Benz Vans to get the job done. Their noted reliability, manageable running costs, flexible capacity, and ease of operation make the Metris and Sprinter the vans to own in North Texas.
SPRINTER
The Sprinter is the workhorse of the lineup. It is a world-proven van that has been put to work in an assortment of jobs. Whether you run a delivery service or do home repairs, the Sprinter Cargo Van can be ordered in five different models, a choice of two wheelbases, three body lengths, two roof heights, and three different engines. 
The Crew Van is designed to not only bring the job closer to the site, but to carry up to five people to work. This is a solution that works in various settings from construction to installation of new appliances.
You can also get a Passenger van version that can seat up to twelve people. Available only in a high roof model, this is a great solution for private transportation services or for families that need more passenger space and cargo capacity. 
If you have a need to carry more cargo in a box or to build a motorhome, the Sprinter comes in a Cab Chassis configuration made for a host of upfit solutions. 
The Sprinter is available with a four-cylinder gasoline engine, along with two diesel engines - a four-cylinder and a powerful six-cylinder. You can also tow with a Sprinter for a maximum capacity of 5,000 pounds. 
A high roof, extended body Sprinter Cargo Van on a 170-inch wheelbase offers the maximum capacity of any van in the business. You have the space to full 469.4 cubic feet of work with a maximum payload of 4,879 pounds. That translates into a Gross Vehicle Weight Rating of 11,030. High roof models also have a standing height of 79.1 inches.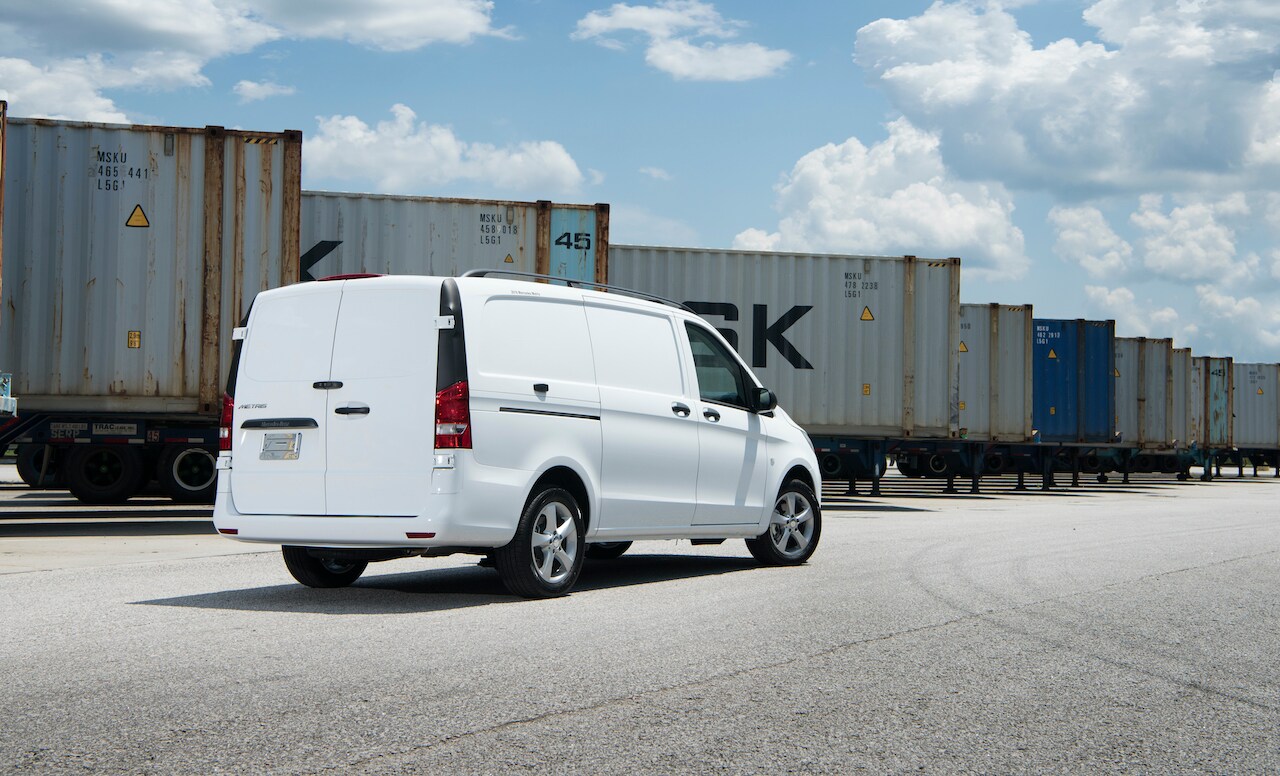 METRIS 
For a right-sized van solution, the Metris gives you more capacity than a small van with the performance of a larger vehicle. 
Metris Cargo vans offer superb capacity for smaller jobs. With 199 cubic feet of cargo and workspace, you have a maximum payload of 2,425 pounds. That translates into a Gross vehicle Weight Rating of 6,614 pounds. For more capacity, a Metris can tow up to 5,000 pounds. You can choose two wheelbase options for the job you want your Metris to do. 
You can also choose a Metris Passenger van that seats up to eight people. This van is not just great for families, but for transportation services that need a smaller solution over a full-sized model.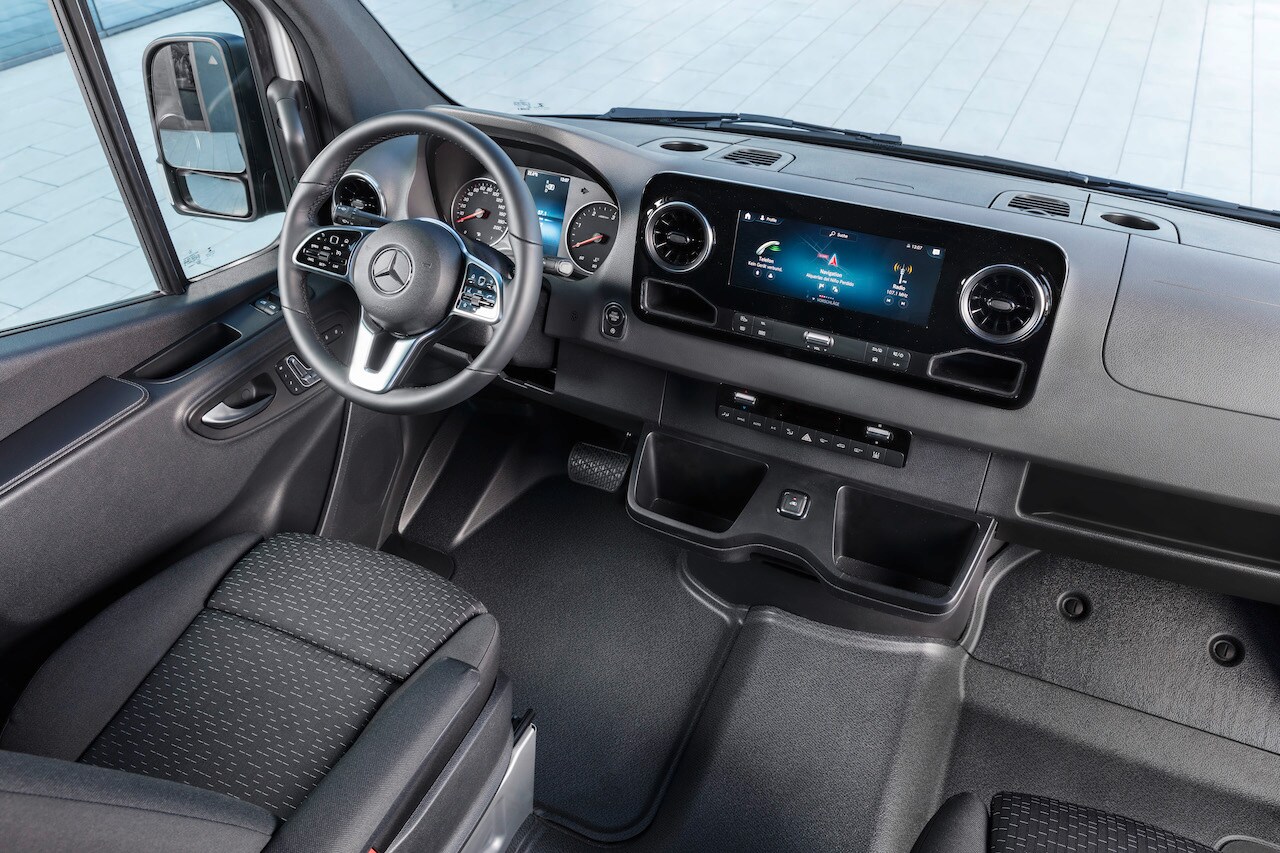 Both the Metris and Sprinter are designed for safety on the road. The latest in Mercedes-Benz driver assistance technology is available to ensure that your van will be protected while on the job. These technologies include Active Brake Assist, Blind Spot Mirror Assist, Attention Assist, 360-Degree Camera, Active Distance Assist, Traffic Sign Assist, Crosswind Assist, and Active Lane Keeping Assist. All of the features work to ensure that anyone driving a Metris or Sprinter will ensure that your investment is protected towards maximum uptime. 
In addition, you can keep tabs of your Metris and Sprinter with Mercedes PRO connected services. This system connects your van (or fleet of vans) to a centralized solution to find ways to improve your bottom line, schedule maintenance, and manage your uptime and downtime. Data from your vans can be integrated onto your fleet management system. 
If you need to maximize your van's working environment, Mercedes-Benz Master Solutions offers upfit configurations that will help boost your bottom line and productivity. 
Metris vans start from $27,180, while the Sprinter lineup starts from $34,495. 
Even in a van, your business or family deserves "the Best or Nothing." Contact us at Mercedes-Benz of Plano to find the best solution in our Metris and Sprinter vans today!