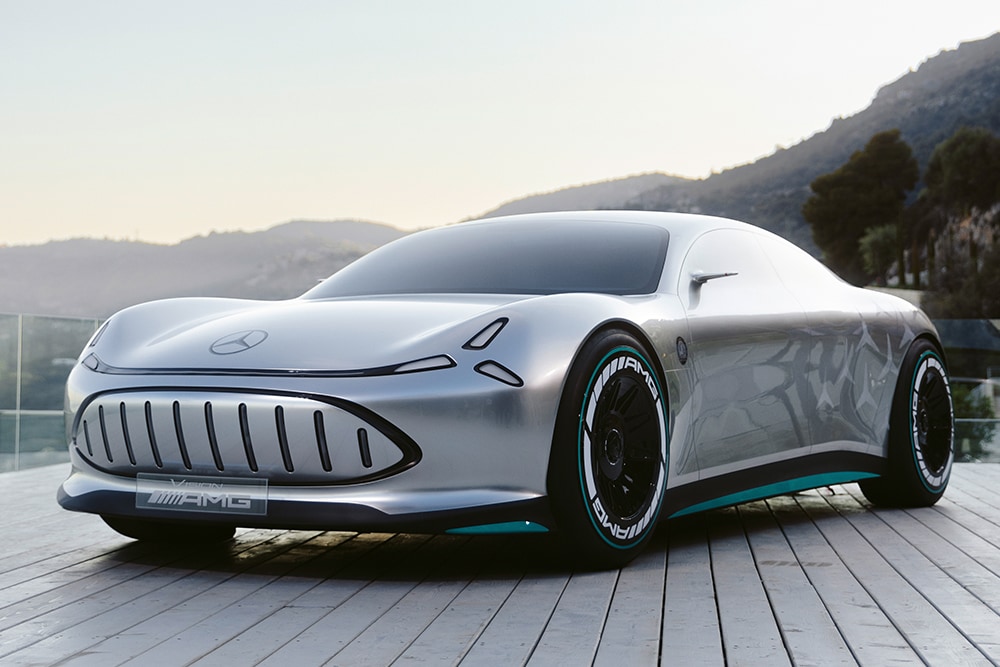 The Mercedes-AMG displays smooth buttery lines that lead to a dazzling long wheelbase. Looking at its exterior, you see strong shoulders that can take on the road with an all-electric future. The rear spoiler is exceptional and not easy to miss, and the signature star-shaped headlamp is undeniably stunning.
Mercedes-Benz writes its own story with passion and love. The Vision AMG concept car continues to be loyal to the brand aesthetic, and you can see that in its unique design for the all-electric future of AMG Driving Performance.
This four-door coupe, Vision AMG, displays the brand's dual polarity through its beauty and adaptability. Currently, the frame is the AMG.EA platform, which is in development for all-electric performance models.
Mercedes-AMG Performance Luxury
Luxury performance starts and ends with Mercedes-AMG. There is so much that the AMG offers. One of the many futuristic features is the illuminated high-tech grille. Not only is the Vision AMG serving modern appeal, it too gives extreme proportions. Vision AMG is the next step in design. To further performance is the VISION EQXX - think of an electrified supercar, and the VISION EQXX appears. The future is getting brighter with performance luxury, elegant edges, and robust design.
Many aspects of the drivetrain components are designed from scratch. The AMG.EA platform is crafted with a never seen high-performance high-voltage battery that is innovative and revolutionary.
The Vision AMG has an Axial Flux Motor that Mercedes-Benz develops in its wholly-owned subsidiary of YASA. Lightweight and compact, the Vision AMG delivers. You could expect an incredible potency that far surpasses the power of traditional electric motors.
The Vision AMG is a concept vehicle that peeks into future electric cars. However, today, we have plenty of Mercedes-Benz fuel-efficient vehicles. You can browse our inventory for the A-Class A 220, AMG EQS, AMG GLA 35, and more. Our vehicles range from sedans and coupes to SUVs. Take a look at our new AMG inventory or our used Mercedes-Benz cars.
At Mercedes-Benz of Plano, luxury does not start and stop at the Mercedes-Benz vehicle, it pertains to your overall experience. Our team throughout our dealership aids in the best customer service experience during car buying or leasing.
You can count on us to help with financing, from genuine Mercedes-Benz parts to regularly servicing your vehicle. Whether you need an oil change, tire rotation, new brakes, exhaust pipes, and more, we are here for you.
Contact us today to book your appointment.