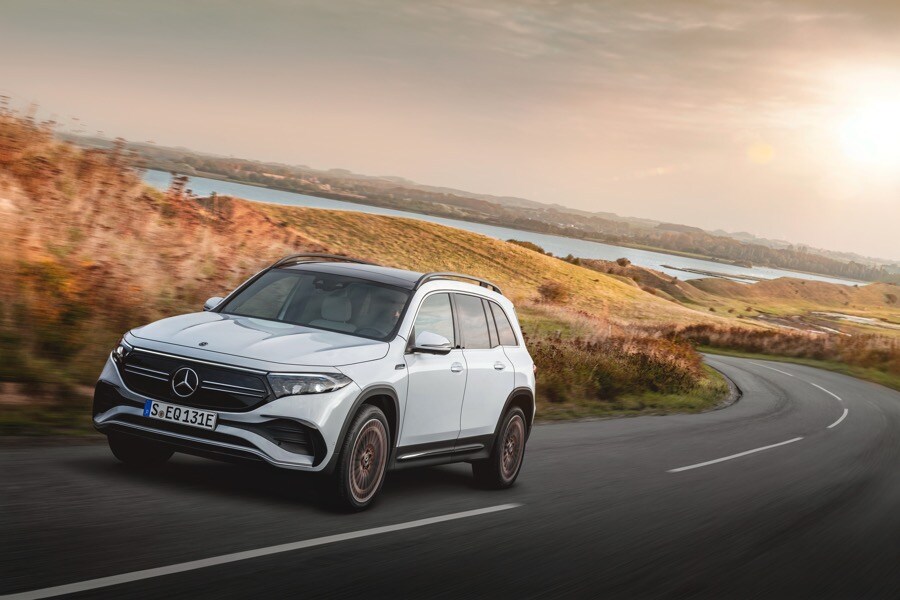 The Mercedes-EQ electric vehicle lineup is set to expand further with the impending arrival of the EQB – the all-electric version of the newly popular GLB SUV.
The EQB takes the EQ platform to a new size, which is actually quite accommodating with up to three rows of seating available. This is unique among battery-electric vehicles as the third row of seats is usually removed for a battery pack. The way the EQB is engineered you CAN choose a third row option in this model.
Part of that engineering is a long wheelbase – 111 inches, to be exact. That wheelbase allows for an increased passenger and cargo area with the battery pack moved to mount below the floor.
Available in both front- and all-wheel-drive, the EQB will offer various power and battery capacities for you. One such version will be rated for more than 268 horsepower.
The EQB will follow the design language set by other Mercedes-EQ models, including the EQS flagship. Mercedes call it Progressive Luxury. It all starts with a black panel grille with the central three-pointed star and a continuous light strip at both the front and rear of the EQB.
Assisting your way around the Metroplex and beyond is another new technology called Navigation with Electric Intelligence. This goes beyond simple navigation, as the system will take in account maximum charging power and the duration of possible charging stops. It will also ensure that the battery pack is at an optimal charging temperature before being plugged in for a recharge.
As for charging the EQB, Mercedes-Benz wants to assure its owners that the electricity being used to run their vehicle runs on comes from renewable energy sources. The Mercedes me Charge program will point you to one of many public charging stations currently operating and planned across the Metroplex and the country using these energy sources.
The future is coming with the new EQB. Contact Mercedes-Benz of Plano to register your interest in the newest edition to the EQ family.