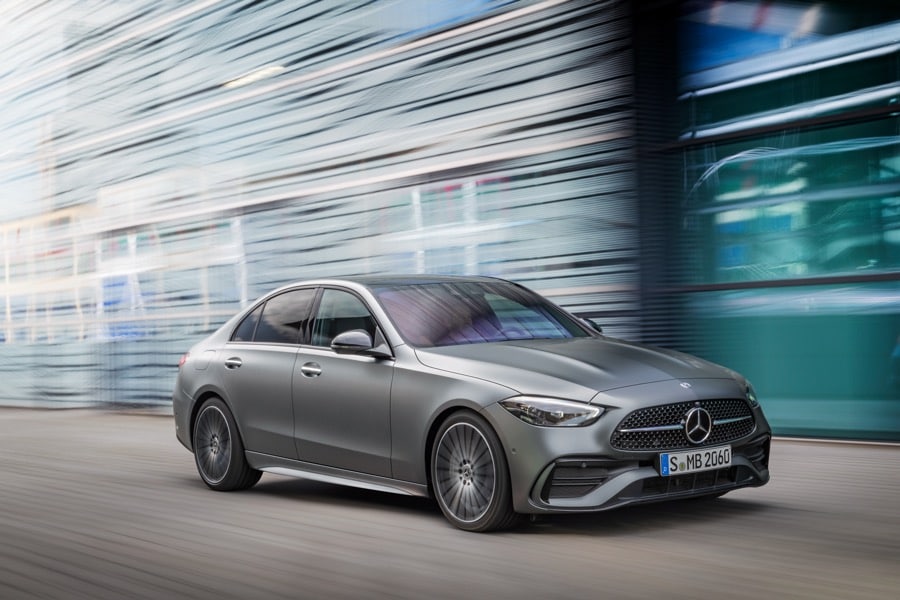 Our most popular sedan is about to be transformed. Its leadership has been framed by excellence – leading in technology, design, efficiency, and performance. There is no peer to this.
In the first half of 2022, the new-generation C-Class will arrive at Mercedes-Benz of Plano.
The new C-Class will once again take its cues from the all-new S-Class both in terms of design and integration of technology. This new sedan will advance what you know about comfort, safety, and the overall driver and passenger experience to a new level.
The new 2022 C-Class will be the first Mercedes-Benz in the U.S.A. to be available in strategically curated trim levels. Whether you choose the C 300 or C 300 4MATIC, you now have the choice of Premium, Exclusive, and Pinnacle trim levels. Each will also showcase innovative technologies and luxurious features beyond the generous level of standard equipment and extensive options for customization.
The new sedan will be longer and wider than the current model. You will also see a cab-backward exterior design on the new C-Class that starts with an A-shaped grille, an open star pattern, and power domes on the hood. Each of these elements accentuates an aggressive profile that speaks to the C-Class' new outlook for its owners.
Inside the new C-Class is a progressive interior featuring a freestanding 12.3-inch digital instrument panel and an 11.9-inch central portrait-oriented touchscreen multimedia display. The latter is the hub for the Mercedes-Benz User Experience, which has been further enhanced in the new C-Class. The new screen is now tilted towards the driver by six degrees for easier access to all of the multimedia hub and MBUX's functionality.

There is a new turbocharged 4-cylinder engine underneath the new C-Class hood. The most notable additions to the powerplant are an integrated starter generator and 48-volt mild-hybrid technology. Power ratings are 255 horsepower and 295 pound-feet of torque. Low-end performance received a 22 pound-feet of torque increase over the outgoing C 300 model. The 48-volt hybrid system adds a further 148 pound-feet of torque, as well as an additional 20 horsepower for smoother initial acceleration and power delivery.
In terms of safety, the new C-Class will offer an enhanced suite of driver assistance systems. These enhanced features include Active Distance Assist DISTRONIC, Active Steering Assist and Active Lane Change Assist. All of which can maintain highway speed semi-autonomously and safely. Newly available Active Stop-and-Go Assist can also provide semi-autonomous support in traffic jams at speeds up to 37 mph.
There is so much more to tell about the C-Class. However, we have months to go before it arrives at Mercedes-Benz of Plano. Contact us to register your interest in our newest highly advanced sedan. In the meantime, we have plenty of current-generation C-Class models available to experience today!