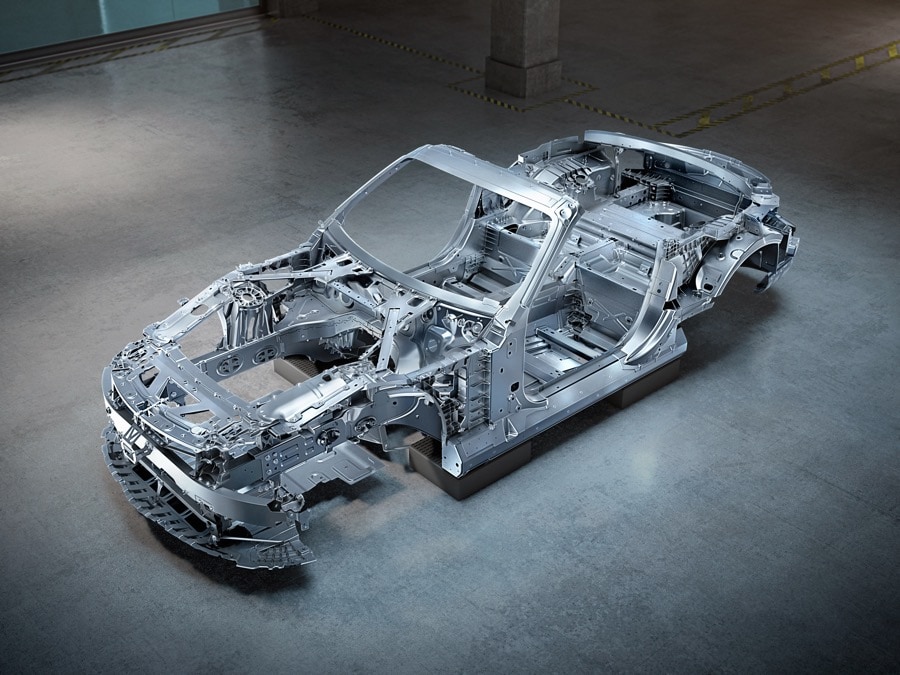 When the Mercedes-Benz SL was first introduced in 1952, it was seen as a startling revelation. Could a production-series Mercedes-Benz offer light weight and the highest possible torsional rigidity in a vehicle wearing the three-pointed star?
The next chapter in the iconic roadster's history will soon arrive. Again, it will be a revelation.
The next Mercedes-AMG SL will be built on a combination of an aluminum space frame with a self-supporting structure. This new platform will repeat the targets of 1952 with low weight and the highest possible torsional rigidity.
Before you consider whether this is based on the current Mercedes-AMG GT lineup – it is not. Not one chassis component will be shared with it. Not even a body panel.
It will be a vehicle that was developed with a blank sheet of paper – or, rather, a blank computer screen.
Mercedes-AMG will be working with not just aluminum. They will combine the best of all construction materials, including steel, magnesium, and fiber composites. In all, the new 2+2 roadster will meet all of the criteria of each and every SL before it. More so, that it will become wholly a part of the AMG family.
The requirements for the bodyshell architecture of the new luxury roadster were considerable: the specifications demanded a much more comprehensive scope than for the predecessor model series. In particular, the basic layout with 2+2 seats and the potential to accommodate a wide range of drive systems were realized here for the first time in an SL, a task that presented the developers with completely new challenges in terms of complexity. The aim was to present the Driving Performance characteristic of the brand with a focus on lateral and longitudinal dynamics, as well as to meet the high expectations in terms of comfort and safety.
The result will be a bodyshell that will only weigh 595 pounds, before any exterior panels and components are added. While light, it will be even more rigid. For example, the transverse rigidity of the bodyshell will be 50 percent higher than the Mercedes-AMG GT Roadster. Longitudinal rigidity will come out to 40 percent greater than the same vehicle.
Expect the next Mercedes-AMG SL to have the lowest center of gravity of any roadster before it. That, along with new benchmarks on build quality and execution for the next chapter of its iconic history.
With this new construction methodology, the Mercedes-AMG SL will be built at the same Bremen plant as its predecessor.
If you are interested in becoming one of the first owners of the Mercedes-AMG SL roadster, contact us at Mercedes-Benz of Plano to register your interest.