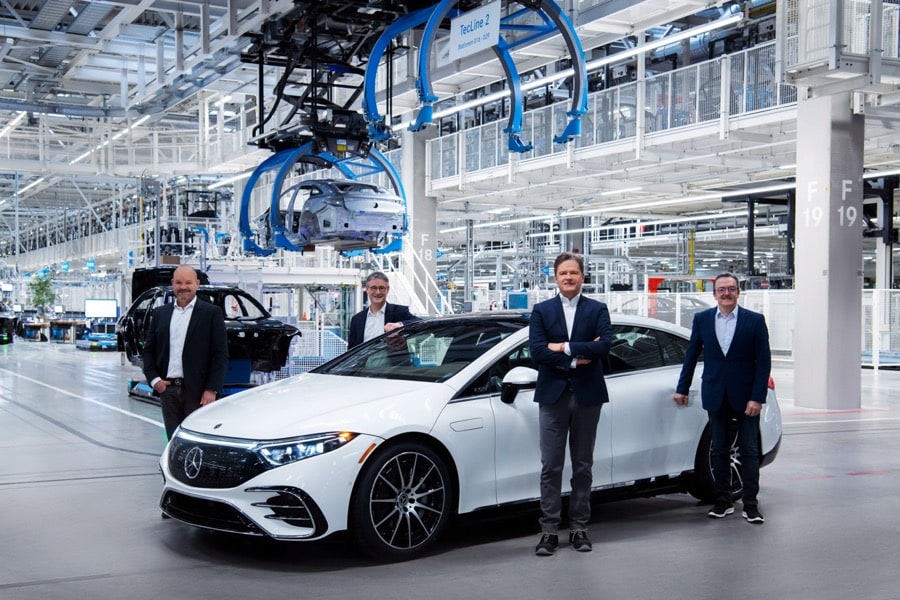 Production is now underway for the Mercedes-Benz EQS – the next battery-electric vehicle to be sold here in the Metroplex.
This vehicle will be produced at the Factory 56 in Sindelfingen, Germany. This specific factory has made some of the greatest Mercedes-Benz models ever crafted.
What makes Factory 56 special is that it is the current home of the S-Class sedan. It also produces the Mercedes-Maybach S 680 sedan. The addition of the EQS to this facility is a remarkable feat, as it will become the first battery-electric vehicle to be produced alongside its internal combustion siblings.
The production method for the EQS enables Factory 56 to employ sustainable and CO2-neutral methods of manufacture. That will also benefit the production of other S-Class models produced in the same facility. Methods include environmental protection and resource conservation. The use of photovoltaic systems on the roof of the hall covers yearly around 30 percent of the electricity demand. That is one method to ensure a clean production environment for the new EQS.
As the EQS is assembled alongside the S-Class sedan and the Maybach version, production flexibility assures that all of these vehicles are produced with advanced methodologies. When it comes to installing different drivetrain components, Mercedes-Benz employs the "Fullflex Marriage" where the vehicle body is connected to the drive system. The process enables all of these flagship sedans to match up properly with their intended drivelines in a highly orchestrated manner with optimal flexibility.
The 1,500 professionals working at Factory 56 are tasked to ensure that high voltage components are mated to each EQS with care. This is a job that is not just for the highly-skilled, but to ensure that the task at hand is handled with the highest care and safety.
Coming soon to Mercedes-Benz of Plano, the EQS will exemplify the company's motto: "The Best or Nothing." Contact us to become one of the first owners in the Metroplex of this breakthrough vehicle today!