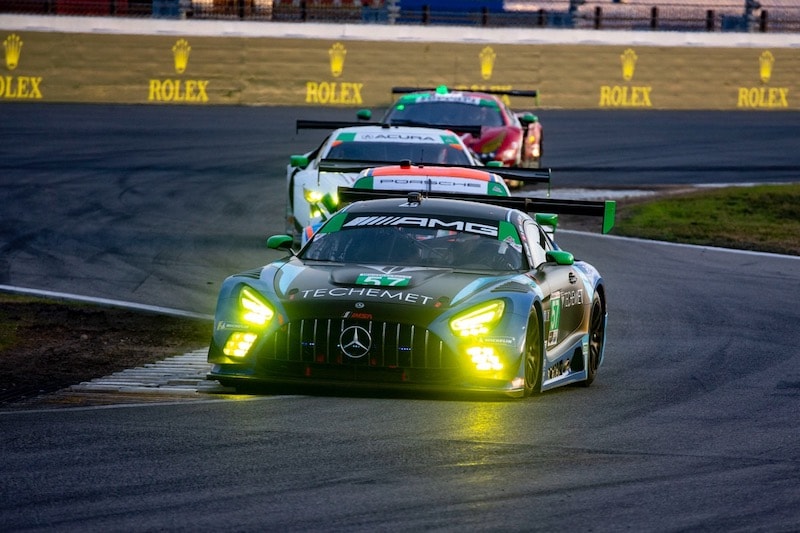 The benefit of driving a Mercedes-Benz and an AMG model is enjoying the results from what we learn from research into our vehicles. That includes putting our vehicles on the track.
The Rolex 24 at Daytona kicks off the motorsports season every year. The test is how any car can endure 24 hours on one of the finest racing venues in this country. This 12-turn, 3.65-mile tri-oval road course has banks up to 31 degrees. Unlike the NASCAR configuration, the road course offers enough challenges to keep drivers on their toes day and night.
This year, the Rolex 24 saw a growing contingent of teams running the Mercedes-AMG GT3 on this iconic track in the GTD class of the IMSA WeatherTech Sportscar Championship circuit. The results were remarkable. Two customer teams finished first and second in class at this year's Rolex 24.
The Winward Racing and Sun Energy 1 teams learned one thing about the cars they put on the track at Daytona International Speedway – the Mercedes-AMG GT3s not only finished the 24-hour race. They lead the pack doing so.
This season, there are three Mercedes-AMG GT3s competing in the WeatherTech SuperCar Championship in the GTD class. Follow the action through IMSA's website and social media, as they keep up the winning momentum from the Rolex 24 at Daytona throughout the season.
Mercedes-Benz of Plano is a place where your enthusiasm will be stoked with our selection of AMG models, including the GT lineup. Contact us to bring home the winning edge today!