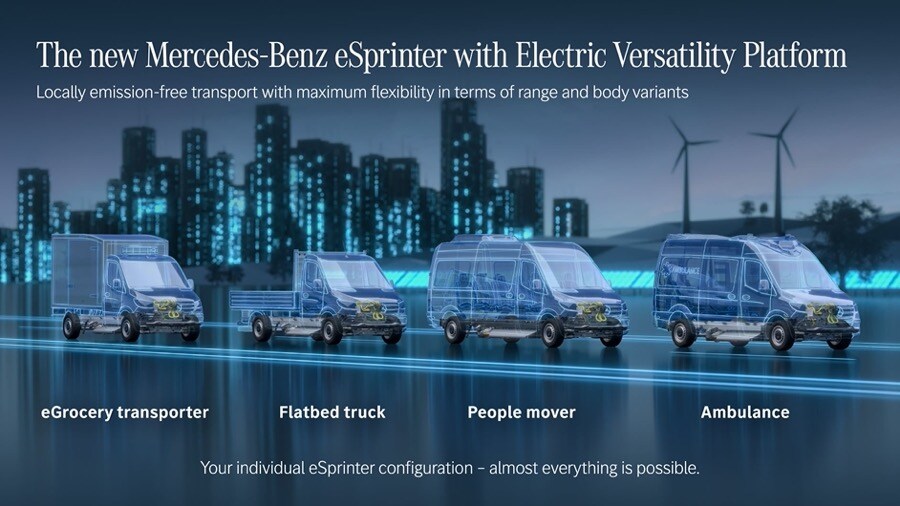 ?

Is your business ready to plug into the future?


If the future is electric, perhaps your business will be happy to hear that Mercedes-Benz will introduce the eSprinter in 2023.


Produced at our North Charleston, South Carolina plant, the eSprinter will resemble the Sprinter you already have working for you. There will be a noticeable difference when you drive it.


There has been a push towards electrifying the commercial vehicle segment. A higher amount of instant torque from battery-powered electric motors helps to carry the load better than gasoline-fueled power. With specific range requirements, electric vans will not only operate within specific areas efficiently, but these vans will also return lower running costs overall.


Payloads will also get an upgrade, as more torque means more capacity.


The new eSprinter will be part of an all-new generation of Mercedes-Benz vans. They will be built on a new platform that will be flexible between gasoline/diesel fuel vehicles, all-electric vehicles, and other propulsion options in-between.


More importantly, your eSprinter van will be produced right here in the U.S.A., as with the current Sprinter vans you currently have in your fleet. We know that matters to you as a business owner, to keep our economy going.


To become part of your business's future, contact us at Mercedes-Benz of Plano to plan for your next fleet turnover with the eSprinter in the next couple of years. Do you still need a new van for your business? We have Metris and Sprinter vans available to keep you and your business going today!